Native Americans have a complex and rich cultural legacy that dates back thousands of years. They have made major contributions to American history, culture, and society, but their tales and accomplishments are sometimes forgotten or undervalued.
Native Americans have played an important role in molding the path of American history, from valiant warriors and spiritual leaders to prominent artists and activists.
This list honors 13 famous Native Americans who have had long-lasting effects on their communities and the world. They represent several tribes and nations, and their achievements span from military and political leadership to cultural and creative contributions.
These individuals serve as a reminder of Native Americans' persistence, resourcefulness, and innovation, and their stories motivate us to learn more about their history and culture.
Famous Native Americans
1. Sitting Bull
Sitting Bull (1831-1890) was a Hunkpapa Lakota Sioux chieftain notable for his staunch opposition to the United States government's efforts to remove Native American land and force them onto reservations.
He was born among the Lakota tribe in present-day South Dakota and quickly rose to prominence as a warrior. Sitting Bull's leadership abilities and military methods helped him gain respect among his people.
Sitting Bull is primarily remembered for his role in the 1876 Great Sioux War, also known as the Black Hills War. The US administration had breached the Treaty of Fort Laramie by seeking to extract gold from the holy Black Hills of the Lakota.
Also Read: Facts About Native Americans
In retaliation, Sitting Bull formed a coalition of tribes against the US Army, including the Cheyenne and Arapaho. His triumph over General Custer at the Battle of the Little Bighorn elevated him to the status of Native American national hero.
Sitting Bull and his men were forced to surrender after the war and were placed on a reservation. He continued to push for Native Americans' rights and traveled to Europe to raise awareness of their predicament.
He was slain in 1890 following a clash with Indian agency police who were seeking to apprehend him. The legacy of Sitting Bull as a warrior and leader continues to inspire Native Americans today.
2. Sacagawea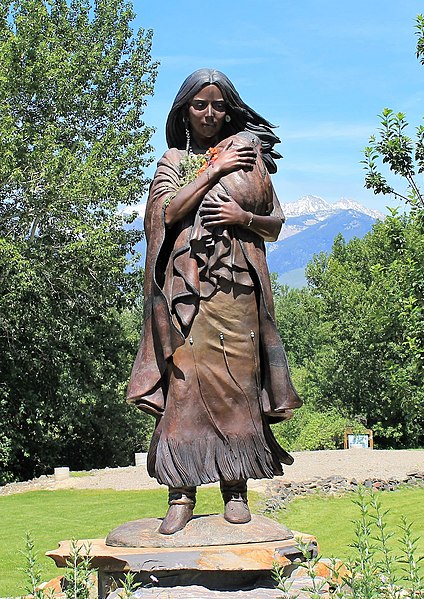 Sacagawea (about 1788-1812) was a Lemhi Shoshone woman who worked as a guide and interpreter on the Lewis and Clark Expedition.
In 1804, the explorers Meriwether Lewis and William Clark engaged her as a teenager to assist them navigate the newly acquired Louisiana Territory and communicate with the Native American tribes they encountered.
Also Read: Facts About Indigenous Peoples Day
Sacagawea was critical to the expedition's success, supporting the explorers in finding food, water, and safe passage through the use of her knowledge of the terrain and language skills.
She also acted as a bridge between the explorers and the Native American tribes they met, assisting in the establishment of peaceful relationships and the securement of essential supplies.
Sacagawea's contributions to the Lewis and Clark Expedition were critical, and she is now seen as a symbol of Native Americans' important role in the exploration and settlement of the American West. She can also be found on the US $1 coin.
3. Geronimo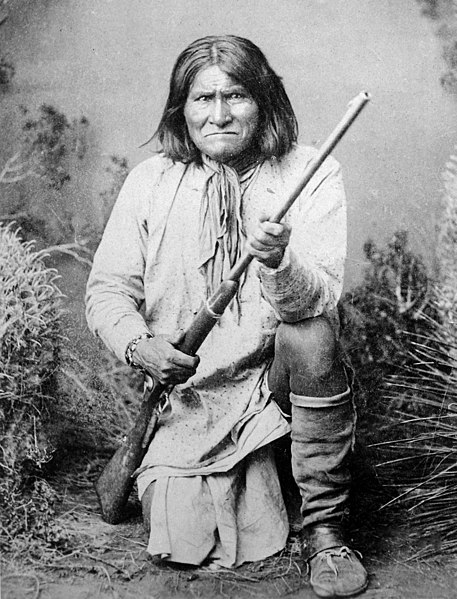 Geronimo (1829-1909) was an Apache warrior and commander who fought against the United States government's attempts to relocate Native American tribes to reservations. He was born in modern-day Arizona and rose to prominence as a warrior at an early age.
Geronimo's family was slaughtered by Mexican soldiers in the 1850s, and he began conducting attacks against Mexican and American settlers. His raids and battles against the United States Army lasted decades, making him one of the most feared and revered Native American commanders of his day.
After years of fighting, Geronimo and his followers surrendered to the US Army in 1886. He and his people were relocated to reserves in Florida and, eventually, Oklahoma, where he continued to struggle for Native American rights.
Geronimo became connected with bravery and resistance, and he became a symbol of Native American opposition to the United States government. In the years since his death, he has been hailed as a hero and honored by numerous Native American tribes.
His memory continues to encourage Native Americans to fight for their rights and to stand up to injustice.
4. Wilma Mankiller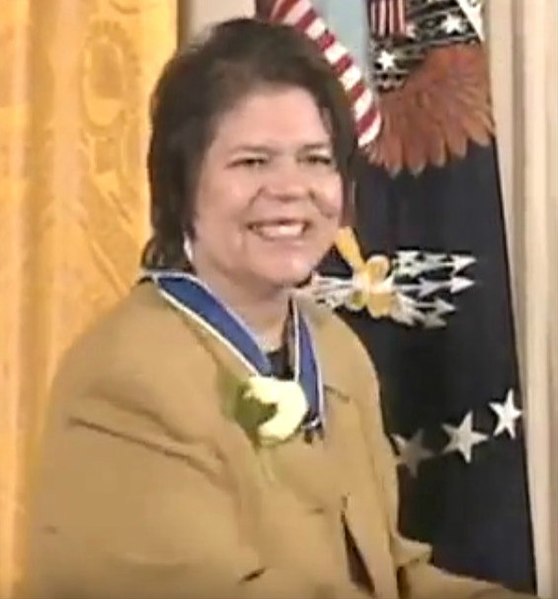 Wilma Mankiller (1945-2010) was a Cherokee activist and the first woman to serve as Principal Chief of the Cherokee Nation, the United States' biggest Native American tribe. She was born in Oklahoma and raised in California, where her family had relocated in the 1950s as part of the Indian Relocation Act.
Also Read: Famous Native American Women
In the 1970s, Mankiller returned to the Cherokee Nation and became involved in community activism, seeking to improve her people's living conditions and healthcare. She was appointed Deputy Chief of the Cherokee Nation in 1983 and Principal Chief in 1985, where she served for ten years.
During her tenure as Principal Chief, Mankiller prioritized education, healthcare, and economic possibilities for Cherokees. She also fought to strengthen tribal sovereignty and improve relations with the federal government of the United States.
For her leadership and advocacy, Mankiller received numerous accolades and distinctions, including the Presidential Medal of Freedom in 1998. She died in 2010, but her reputation as a trailblazing leader and fighter for Native American rights lives on today.
5. Pocahontas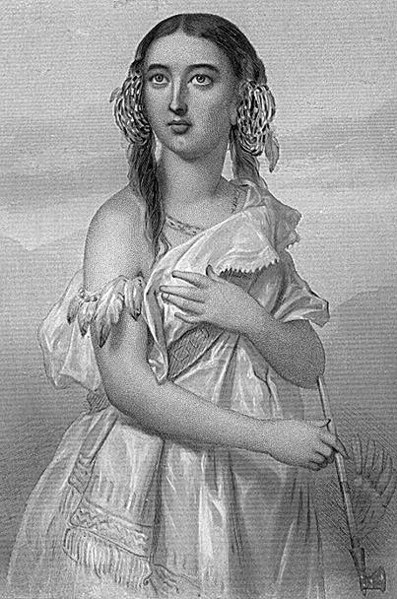 Pocahontas (1596-1617) was a Powhatan princess who notably assisted English colonist John Smith and served as a go-between for her tribe and the colonists. She was the daughter of Chief Powhatan and was born in modern-day Virginia.
Pocahontas is said to have saved John Smith's life when he was captured by her tribe in 1607. According to legend, she begged her father to spare Smith's life, and the two became friends. Although some historians question the veracity of this story, it has become an important element of Pocahontas' reputation.
Pocahontas was instrumental in establishing trade links with her tribe during the early years of the Jamestown settlement. She was seized by the English and held as a hostage in 1613. While imprisoned, she turned to Christianity and adopted the name Rebecca.
In 1614, Pocahontas married Englishman John Rolfe and had a son with him. In 1616, she and her family proceeded to London, where she was presented to the royal court as a symbol of the triumph of English colonization in America. She grew ill while in England and died at the age of 21 in 1617.
Pocahontas' reputation as a symbol of early encounter between Native Americans and English invaders has been romanticized throughout time, yet her narrative continues to be an essential aspect of American history. She is recognized today as a strong and intellectual lady who played an important part in the early years of American colonization.
6. Chief Joseph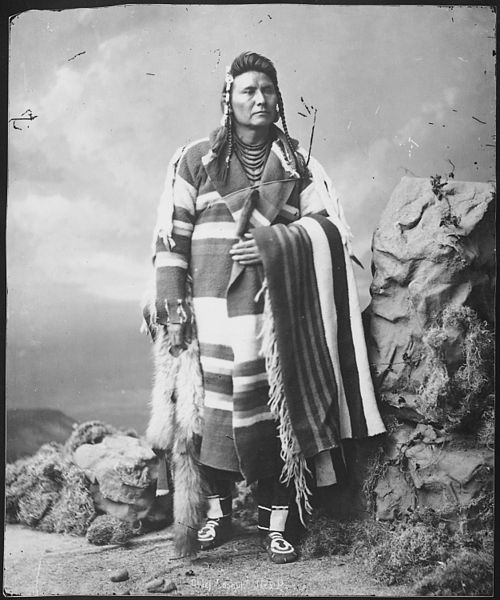 Chief Joseph (1840–1904) was a Nez Perce leader who led his people on a 1,200-mile trek in 1877 to try to elude US Army soldiers. He was born in modern-day Oregon and became the leader of the Nez Perce Wallowa band after his father died in 1871.
In 1877, the United States government ordered the Nez Perce to abandon their territory and relocate to an Idaho reserve. Chief Joseph defied the order and led his people on an escape from the US Army. During the trek, he delivered his famous speech, "I will fight no more forever," in which he expressed his people's wish for peace and acceptance of their fate.
Despite his attempts, US Army forces arrested Chief Joseph and his people in Montana, about 40 miles from the Canadian border. They were compelled to surrender and were taken to an Oklahoma reservation. Chief Joseph spent the rest of his life fighting for Native American rights and seeking to improve conditions on the reserve for his people.
Chief Joseph's story is a reminder of the injustices endured by Native Americans throughout the United States' westward expansion. In the face of adversity, his leadership and eloquence have made him an enduring symbol of Native American resistance and endurance.
7. Squanto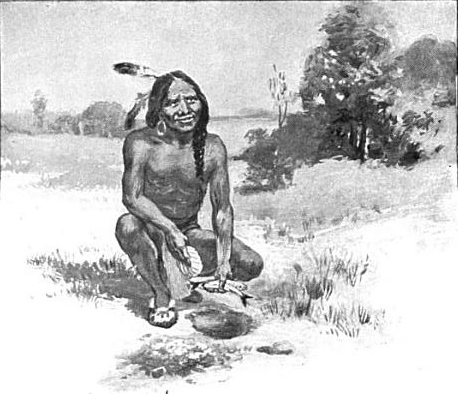 Squanto (1585?-1622) was a Patuxet who assisted the Pilgrims in surviving their first winter in the New World. He was born in modern-day Massachusetts and was kidnapped and carried to Europe by English adventurers before returning to his hometown in 1619.
Also Read: Facts About Squanto
Squanto, who spoke English and could act as a translator and mediator between the Pilgrims and the native Wampanoag tribe, met the Colonists when they arrived in Plymouth in 1620. He showed the Pilgrims how to grow corn and other crops and assisted them in negotiating a peace pact with the Wampanoag.
Squanto's wisdom and abilities aided the Pilgrims in surviving their first year in the New World. Unfortunately, his efforts to promote peace between the Pilgrims and the Wampanoag were hindered by subsequent clashes between the two tribes.
Squanto died in 1622, likely from smallpox, which had decimated the region's Native American inhabitants. His reputation as a mediator and educator is still acknowledged today as a crucial element of the United States' early history.
8. Crazy Horse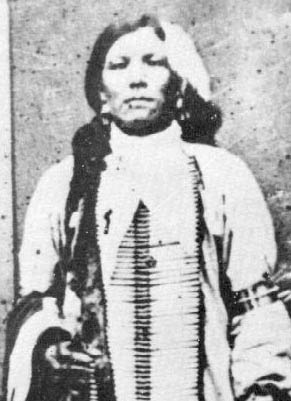 Crazy Horse was an Oglala Lakota warrior who fought against the United States Army during the Great Sioux War of 1876. He was born in modern-day South Dakota and rose to prominence as a warrior and leader among his people.
Crazy Horse was an important figure in the 1876 Battle of the Little Bighorn, in which a coalition of Native American tribes, notably the Lakota, defeated US Army forces led by General George Custer. During the Great Sioux War, he continued to oppose US Army efforts to drive his people onto reservations and fought in several subsequent fights.
Crazy Horse's leadership and military abilities garnered him his people's love and affection, but he was also known for his humility and dedication to Lakota traditions and ideals. He was slain in 1877 while being brought into prison by US Army forces, for reasons unknown.
Crazy Horse is recognized today as a valiant warrior and leader who struggled to safeguard his people's land, culture, and way of life. His legacy continues to inspire Native Americans and others who work to preserve and honor indigenous peoples' history and traditions.
9. Red Cloud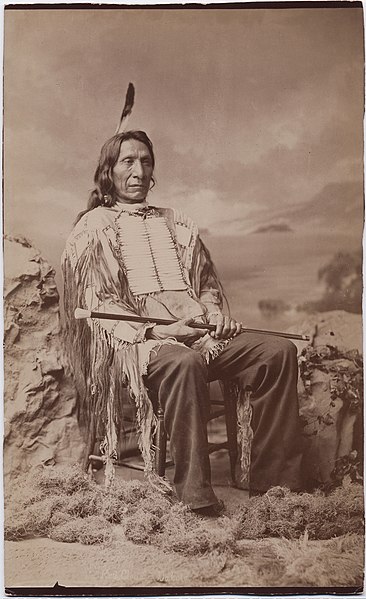 Red Cloud (1822-1909) was an Oglala Lakota chief who fought successfully against the United States government to maintain his people's territory and way of life. He was born in modern-day Nebraska and rose to prominence as a warrior and leader among his people.
Red Cloud led a coalition of Native American tribes in a fight against the United States government's efforts to create forts and roads in the Powder River region of present-day Montana and Wyoming in the 1860s. During Red Cloud's War, he and his allies inflicted major losses on US Army soldiers and forced the government to evacuate many forts.
Red Cloud was also instrumental in the 1868 Treaty of Fort Laramie, which granted the Lakota sovereignty over a major chunk of their traditional territory in the Black Hills region of present-day South Dakota.
Notwithstanding his accomplishments, Red Cloud faced tremendous hurdles in the years that followed as the United States government began to infringe on Native American territory and resources. He devoted most of his later life to lobbying for his people's rights and working to preserve Lakota customs and culture.
Red Cloud is recognized today as a fearless leader and excellent negotiator who fought to preserve his people's way of life in the face of great difficulties. His legacy continues to inspire Native Americans and anyone who wish to appreciate and preserve indigenous peoples' history and customs.
10. Maria Tallchief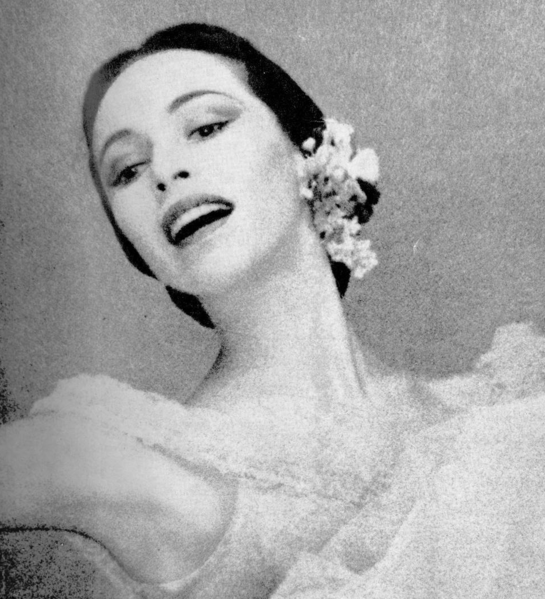 Maria Tallchief (1925-2013) was an Osage ballerina who became the United States' first Native American prima ballerina. She was born in Fairfax, Oklahoma, and spent her childhood on the Osage Reservation.
Also Read: Osage Tribe Facts
Tallchief started dancing at a young age and studied ballet as well as Native American dance. She began her career as a soloist with the Ballet Russe de Monte Carlo in 1942. She eventually joined the New York City Ballet, where she rose through the ranks to become the company's first prima ballerina in 1947, a position she retained for several years.
Tallchief was noted for her technical ability, grace, and artistry, and she was instrumental in popularizing ballet in the United States throughout the mid-20th century. She performed in a number of renowned classical ballets, including "Swan Lake," "The Nutcracker," and "Giselle."
Tallchief served as a teacher and guide to young dancers after retiring from the stage. For her services to the arts, she received various medals and prizes, including the Kennedy Center Honors in 1996.
Tallchief's reputation as a trailblazing ballerina and cultural icon inspires Native American and non-Native American dancers and artists to this day.
11. Black Elk
Black Elk (1863-1950) was an Oglala Lakota holy man and spiritual leader who was a key figure in the late-nineteenth-century Ghost Dance movement among Native American tribes. He was born in Wyoming and raised in a traditional Lakota culture.
Black Elk was known among his people for his wisdom, spirituality, and healing talents, and he rose to become a respected leader and teacher. He was present at the Battle of Little Bighorn in 1876 and the Wounded Knee Massacre in 1890.
In the early twentieth century, Black Elk became involved in the Ghost Dance movement, which held that the Native American people will soon enter a new era of peace and togetherness. He rose to prominence in the organization and was instrumental in spreading its teachings among the Lakota and other tribes.
The book "Black Elk Speaks," which was released in 1932, chronicled Black Elk's life and teachings. The book has become a Native American literary classic as well as a main source of information about Lakota spirituality and culture.
Black Elk is recognized today as a wise and spiritual leader who worked to maintain Lakota customs and culture amid a period of great turmoil and change. His legacy continues to inspire Native Americans and everyone who desire to learn from and honor his teachings.
12. Jim Thorpe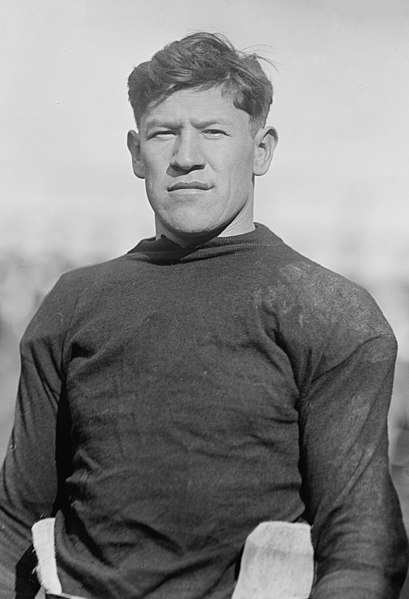 Jim Thorpe (1887-1953) was a Sac and Fox athlete widely regarded as one of the finest of the twentieth century. He was born in Oklahoma and went to Carlisle Indian Industrial School in Pennsylvania, where he excelled in football, track and field, and other sports.
Thorpe's athletic achievements included two gold medals in the pentathlon and decathlon in the 1912 Summer Olympics in Stockholm, Sweden. He also played football, baseball, and basketball professionally and was inducted into the Pro Football Hall of Fame in 1963.
Thorpe suffered tremendous persecution as a Native American throughout his life, despite his athletic prowess. His Olympic medals were revoked in 1913 after it was discovered that he had played minor league baseball, which was against Olympic rules at the time. In 1983, the medals were reinstated posthumously.
Thorpe was a strong supporter of Native American rights and strove to increase awareness and respect for his people's history and traditions. He was also a role model and guide to other Native American athletes.
James Thorpe is celebrated today as a pioneering athlete and Native American rights crusader. His legacy continues to inspire sportsmen and others from all walks of life to follow their dreams and fight for what they believe in.
13. Chief Seattle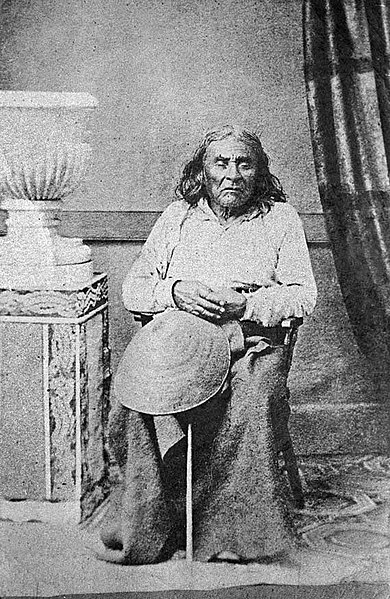 Chief Seattle (1786-1866) was a Suquamish and Duwamish chief who became famed in the Pacific Northwest for his eloquence and diplomacy in dealing with European American settlers. He was born in the state of Washington and raised in a traditional Native American society.
Chief Seattle is most known for a speech he gave in 1854 to a delegation of US government officials attempting to purchase Native American territory. He addressed his people's deep connection to the land, as well as their concerns about the effects of settlement on their way of life, in his speech.
Chief Seattle's speech has been extensively cited and hailed as an early ecological declaration. It has also been understood as a plea for Native People and non-Native Americans to live in peace and harmony.
Despite Chief Seattle's diplomatic efforts, his people were eventually driven off their land and onto a reservation. In his senior years, he advocated for Native American rights and worked to maintain his people's history and traditions.
Chief Seattle is regarded today as a knowledgeable and articulate leader who advocated for peace, understanding, and respect between Native Americans and non-Native Americans. His legacy inspires individuals to work for a more just and equal society.